Samsung Gear 360 Camera, Kamera 360 Yang Seperti Bola Mata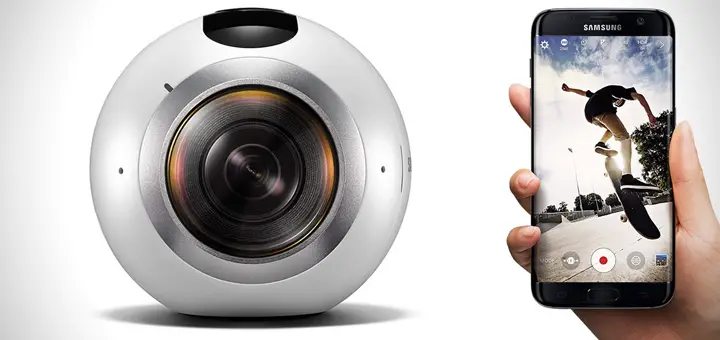 LhaGeek.com – Sekarang ini tren kamera sudah memasuki era kamera 360 derajat. Sehingga kita bisa menikmati foto maupun video dengan segala sisi. Beberapa produsen kamera pun sekarang juga mulai memperkenal produk-produk kamera 360 derajatnya.
Salah satunya adalah Samsung. Sebagai produsen elektronik terkemuka, Samsung ingin memanfaatkan tren ini dengan memproduksi Samsung Gear 360 Camera. Dan ini adalah kamera 360 derajat pertama dari Samsung.
Dari segi fisik, sangat unik sekali karena bentuknya menyerupai bola mata.
Karena kamera 360 harus bisa mengambil gambar dari sudut 360 derajat, maka di kamera ini terdapat dua sensor kamera yang saling membelakangi. Masing-masing kamera mampu mengambil sudut gambar 180 derajat. Sehingga gabungan dari dua sensornya mampu menghasilkan gambar 360 derajat tanpa putus.
Spesifikasi Samsung Gear 360 Camera
Kamera 360 derajat yang satu ini cukup compact. Ukurannya kecil, bentuknya bulat dan memiliki tripod untuk menaruh kamera ini. Dimensinya sendiri hanya 66.7 x 56.2 x 60 mm.
Soal kualitas kameranya, Samsung Gear 360 Camera ini memiliki dua buah lensa CMOS 15 MP (fish-eye) dengan aperture f/2.0. Meski ini kamera 360 derajat, tapi jika pengguna ingin menggunakannya dalam mode single-lens tetap bisa.
Untuk hasilnya jika digunakan untuk foto bisa mencapai kualitas resolusi 30 MP. Apabila untuk video maksimal resolusinya 3840 x 1920 piksel.
Di bagian atas kamera ini ada layar kecil (0,5 inci) yang fungsinya sebagai display informasi menu-menu yang dipilih, seperti Time lapse, Video looping, Setting, atau Video.
Samsung Gear 360 Camera ini menggunakan chipset DRIMe5s untuk menunjang kinerjanya dan didukung oleh RAM 1 GB. Media penyimpanannya sendiri mengandalkan microSD card yang bisa berkapasitas maksimal 128 GB.
Daya yang digunakan di kamera ini menggunakan baterai replacement dengan kapasitas 1350 mAh saja. Jadi jangan harap bisa mengambil video lama-lama menggunakan kamera ini. Tapi untuk saat ini ada promo pembelian dengan bonus baterai replacement 1350 mAh, jadi nanti punya dua baterai. Coba cek di sini.
Konektivitas yang disediakan cukup lengkap, yakni WiFi 802.11a/b/g/n/ac (2.4/5GHz), WiFi Direct, Bluetooth 4.1, USB 2.0, NFC, Sensor Accelerometer dan gyroscope. Jadi pengguna bisa melihat live-nya lewat smartphone.
Spesifikasi Lengkap :
Sensor 2 x 15 MP CMOS
Lens Aperture f/2.0 Field of View 180 per lens
Chipset DRIMe5s
Video Format MP4 (H.265)
Video Resolution
– Dual Cam : 3840 x 1920 at 30 fps
– Single Cam : 2560 x 1440 at 30 fps
Image Format JPEG Image Resolution
– Dual Cam: 7776 x 3888 (30 MP)
– Single Cam: 3072 x 1728 (5 MP)
Audio
– Codec: MP3/AAC/AAC+/eAAC+
– Format : MP3, M4A, AAC, OGG
Memory 1 GB built-in RAM microSD card up to 128 GB
Display 0.5 inch (72 x 32) PMOLED
Connectivity WiFi 802.11a/b/g/n/ac (2.4/5GHz) WiFi Direct Bluetooth 4.1 USB 2.0 NFC Sensor Accelerometer, gyroscope
Untuk pembelian, produk ini bisa dibeli di sini.